Bad Day
: 5pm rolls around, and I'm asking the same question my kids are asking: What's for dinner? They nip at my heels like starved lion cubs. Preacher gulps another cup of coffee to stave off hunger. Frazzled Becki longs to crawl back into bed. Do these people really need to eat three times a day??
Good Day
: 5pm rolls around, and the house smells like herbed roasted chicken. Hungry but happy children dance like
Fraggles
and help set the table. Preacher smiles. Becki faints with joy.
Last week I bought chicken thighs instead of whole chicken because it was basically free. (Ok, so it wasn't free. But it was awfully close!) My plan was to make Jerk Chicken, but since I had absolutely none of the spices for it . . . well, you know. It was getting to be a Bad Day!
Suddenly, the cloudy sky burst forth with light, and I had an idea.
Welcome to Plan B Chicken.
3-4 lbs. chicken pieces
1/4 to 1/3 c. soy sauce
2 tsp. pepper (or to taste)
1 T. lime juice
generous sprinkling Sweet & Smoky Rub*
1 T. minced garlic
1. Mix soy sauce, pepper, lime juice, seasonings, and garlic in medium bowl. Add chicken to bowl, and stir to cover. Refrigerate 30 minutes.
2. Place chicken into crock pot, pouring marinade over all.
3. Cook on low 4-6 hours. In my crockpot, it took about 4.5 hours, but depending on the type of chicken, it may take longer.
4. Serve to a happy Preacher. Or whoever your hubby happens to be. :)
*Sweet & Smoky Rub is a grill rub made by McCormick, although you could make something very similar from scratch.
If you want to make it yourself, try brown sugar, pakrika, chipotle pepper, cinnamon, onion powder, and pepper in whatever amounts make you wanna sing.
The Preacher was very happy with Plan B Chicken. As for the kids, well . . .
They looked at it the same way they look at
anything
not made with peanut butter. Little Man ate it eventually, with
Special Sauce
.
Princess ate peas instead.
Choosing Her Battles,
Becki~
Shared here: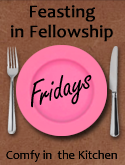 raisinghomemakers.com
http://allthesmallstuff-cole.blogspot.com/